Comparison shopping feeds the quick and easy way!
Feed Wizard
Your Store Wizards have been doing data feeds for Turbify (formerly Yahoo! Store) stores since the old days of "Froogle" and have more data feeds available than any other data feed system. Our staff has been working with Turbify stores since 1999 and are experts when it comes to the platform and the complexities involved when creating feeds for the various Comparison Shopping Engines.
With straightforward pricing, free technical support, and knowledgeable staff to help get you started, Feed Wizard is a must for any merchant looking to get their product into the major CSEs including Google Shopping, Yahoo! Shopping, and Bing to name a few.
While Feed Wizard was designed for Turbify, we also support BigCommerce and Shopify stores.
Affordable Feed Management
We created a tiered-pricing model because most stores send feeds to somewhere between 3 and 6 comparison shopping engines or affiliate networks. You can have as many feeds as you like, and you don't have to pay for extra services you aren't using. Plus, no long-term commitments or contracts required and our service is backed by our own team of support wizards who are here to help you every step of the way at no additional charge.
Flexible for DIY or Custom Feeds
The Feed Wizards are here to help with any custom data formatting or data manipulation. We offer a do-it-yourself interface as well as FREE customer assistance by our expert staff. For any feed, we can include certain products based on your criteria and rules. Custom rules are not a problem for the Wizards - we'll even make a NEW custom data feed if you have special data formatting needs.
Fast Activation
The Feed Wizards are lightning quick. If you don't want to use our self-serve dashboard to sign up and add your feeds, our staff is always here to help set up and optimize your data feed service at no extra charge. Most feeds are established within a day and we're here to will help you adjust the settings on your various Comparison Shopping Engine accounts to receive your automated data feed.
Image Hosting
The Feed Wizards provide full, redundant image hosting which means your product pictures (images, icons, insets, and custom images) are given a permanent URL which does not expire. True Image Hosting means you'll have fewer "image not available" errors on your shopping engine listings. True Image Hosting is vital for affiliate networks and search services, all of which rely on images being readily available.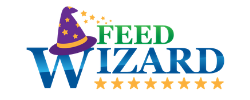 Feed Wizard Lite
$24.95/mo
Includes: data, one (1) feeds to any STANDARD Comparison Shopping Engine, Up to 10,000 items ($3.00 per 5000 additional items). Additional feeds can be added any time. $10.95/mo each.*
Feed Wizard Standard
$44.95/mo
Includes: data, hosted images, three (3) feeds to any STANDARD Comparison Shopping Engine, Up to 10,000 items ($5 per 5000 additional items). Additional feeds can be added any time. $10.95/mo each.*
* MOST Comparison Shopping Engine feeds are STANDARD feeds. PREMIUM feeds count as (3) feeds each. PREMIUM feeds include Affiliate Feeds, Search Service Feeds, PPC Management Companies, and Alternate Sales sites such as  Amazon Seller Central (not their Product Ads/PPC program). Because of their complexity, Some PREMIUM feeds have a special one-time set up cost. Please contact us for details about establishing a PREMIUM feed.