Ready to speed up your mobile presence?
AMP, or accelerated mobile pages, are lightweight web pages that are specifically designed to load quickly for mobile users and don't contain the "bloat" that regular desktop versions of websites contain making for an optimal mobile experience.
AMP versions of your website's pages are created in the background, pushed to Google and stored in Google's cache which further reduces load time. When a mobile user initiates a search and an AMP version of your website is available, the AMP version will be presented to the user. AMP pages are identified in the search results by the lightning bold icon as shown in the example below. More details on the technical aspects of AMP can be found here.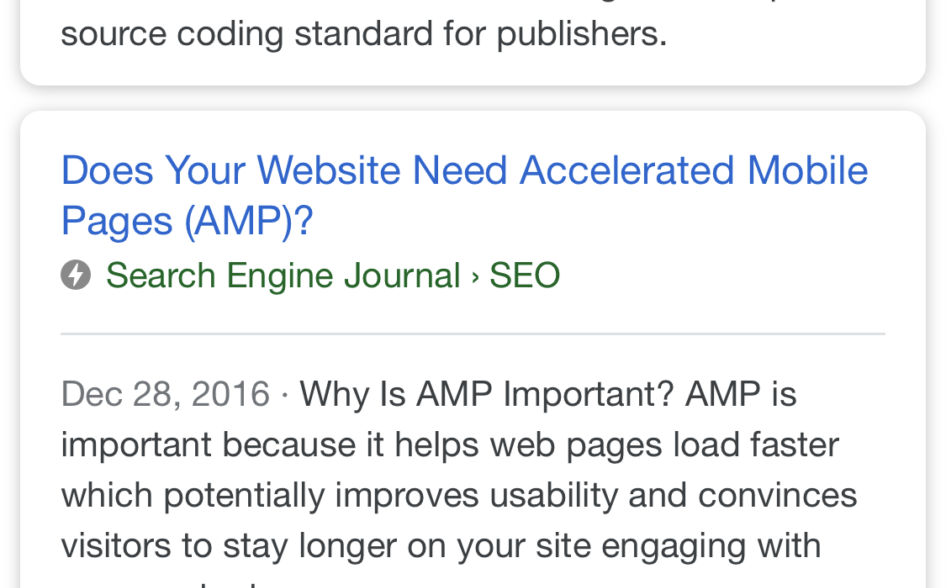 The main benefit of AMP is to provide mobile users with an overall better search experience by providing them with fast loading content that's easy to navigate and display on their mobile devices. Additionally, one of Google's ranking signals for organic results is site speed. Slower loading sites will be given less priority over faster ones, making AMP essential for site owners who want to capture mobile search users. With Google moving towards a mobile-first attitude towards web design, it's important to consider AMP for your site.
AMP Wizard for Yahoo! Store is not designed to be a mobile version of your website and the AMP URL is not submitted to search engines for indexing. Your AMP site URL should not be given out as a mobile accessible site for your website. The purpose of an AMP site is for mobile search visibility, not as a mobile website solution.
Your responsive / adaptive website will always be displayed to users who type in your URL directly and they will receive that version of your website. The AMP version of your website will only ever be found by users who make a search query and your website comes up as one of the search results. Even though your website is mobile friendly, to capture the most organic search users, it is recommended to have an AMP version as well, as the AMP site will receive priority over your responsive / adaptive one.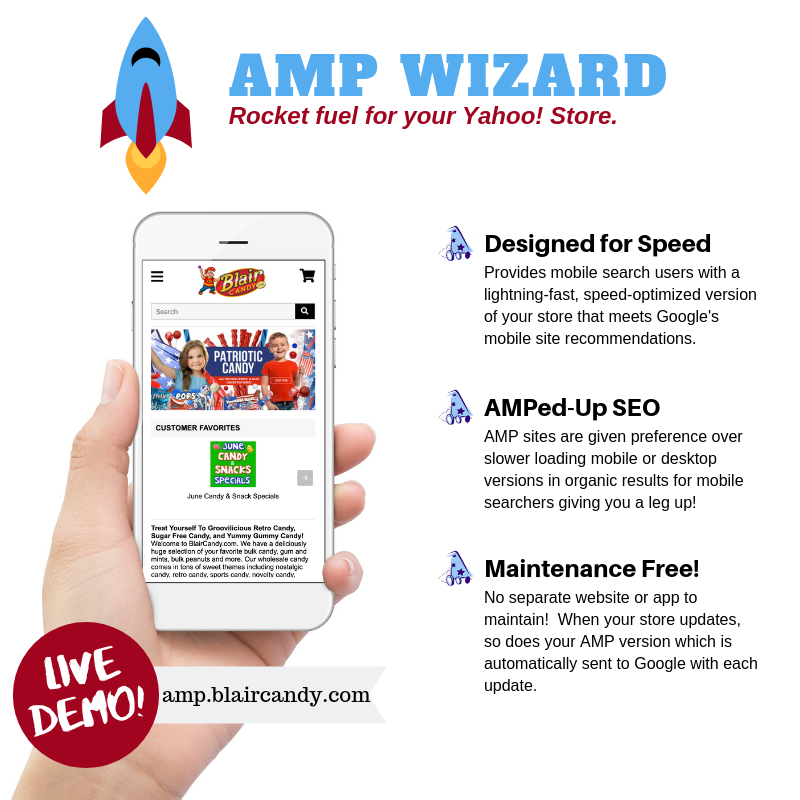 AMP Wizard for Yahoo! Store is available for $59 per month with a free install! 
No separate website or mobile app to maintain! When your store updates, so does your AMP version which is automatically sent to Google with each update.   As AMP evolves, so will your AMP powered store. As new features are added, your AMP site will automatically be updated.
Like all our apps, AMP Wizard is built by the team you know and trust at Your Store Wizards and is backed by unlimited technical support.
Contact Us
Contact Us for a
Free Quote