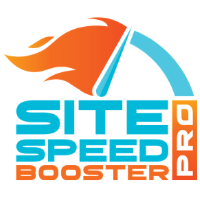 A comprehensive suite of tools designed to decrease load time and enhance the performance of your eCommerce store on desktop and mobile devices.
Website speed is more important today than ever before. Slow loading sites not only turn customers away but can be excluded from organic search results. In order to capture sales, a land coveted real estate in SERPs, and gain a leg-up on your competition, a fast loading website is critical.
Amazon tested and found that for every 100ms added to load speed of their pages (that's 1/10th of a second), they saw a decrease in revenue of 1%. So adding half a second to their load time would cost them 5% of their revenue. What would you do if you could increase your revenue by even a few percentage points?
Our SiteSpeed Booster has multiple components that work in tandem to effectively optimize the speed of your website:
Booster 1: File Compression
All framework files for your site (graphics, CSS, javascript) are compressed, combined, optimized and hosted on a fast, reliable CDN through Amazon Cloudfront using a sub-domain of your store (files.yourstorename.com). These files are then served from one of more than 60 strategically located nodes located nearest to your visitor for faster delivery.
Need access to these files? No problem! Through a control panel, you'll be able to access, add or delete files as needed – although the majority of our users never have the need to.
Quality and compression levels can be set on a per-location basis (i.e. home page vs section page vs item page) to minimize load time and maximize quality.
Benefits of file compression include:
Up to an 80% decrease in load time by compressing core site images and framework files.
Reduces the number of server calls by combining core files.
Files are given a long "lifetime" for maximum caching.
Booster 2: File Version Monitoring
SiteSpeed Booster constantly monitors your website for new file versions. When a new version of an existing file, or a completely new file, is added to your site it's automatically optimized and added to our CDN. This ensures that every page, every image, every file is always performance tuned.
Plus, if you do a redesign or make major changes to your website all changes, adds and deletes will be detected and optimized next time your site is scanned.
Benefits of File Version Monitoring:
All files are automatically rebuilt and optimized every time you publish with any new files.
Booster 3: Image Optimization
Many times site speed is degraded simply by large, unoptimized images being uploaded and continually served to visitors. Our industry-standard image optimization technique decreases image size by up to 75% without any loss in image quality.
All images that are part of your site are automatically optimized including product, banners, core design images, etc. None are left behind to slow down your site!
Benefits of Image Optimization:
Properly optimized images can result in a 20 point increase in Google PageInsights scores.
Work with the file sizes you're used to, no need to figure out compression on your own, leave that up to us.
Images auto-optimize and update on any new load and publish.
Product images are given a long lifespan on our CDN for maximum caching. Filenames will automatically change when the image is updated.
SiteSpeed Booster Pro is a monthly service with no bandwidth or hidden fees. Once installed we will provide you with a comprehensive Booster Report that shows the before and after performance of your homepage, an item page and a section page. (To validate and to provide the most accurate results, we use multiple testing sources and multiple tests to show the improvements.)
We're so confident that SiteSpeed Booster Pro will enhance the performance of your website, it comes with our Total Satisfaction Guarantee! If we are unable to improve item page load speeds by 5 points on Google page speed scores or less than 5% on your item page load time, we will refund your installation cost.
In our own testing, we found that on average most stores gain 10-15 points on Google page speed and a 5-20% increase on page load times.
Pricing:
Installation Fee: $399
Monthly Service Fee: $159
Like all Your Store Wizards Software as a Service (SaaS) products, there are no contracts to sign and no long-term commitments. All products are sold on a month-to-month basis and you can cancel at any time.
Please note, if SiteSpeed Booster Pro is canceled and repurchased, the installation fee applies.
Contact Us
Contact Us for a
Free Quote