Finally, Customizable Search That Won't Break the Bank
Search Magic
We believe that a search product needs robust features that enable merchants to increase order values without costing a small fortune.   That was our goal when we set out to build Search Magic nearly a decade ago.  Today,  Search Magic is a fully customizable advanced search application that's easy to use and designed to make you money.
Built for today's mobile-first design, Search Magic offers flexible design options with two layout choices and is fully compatible with mobile and responsive designed stores.  Plus, with features such as spelling error correction, synonym suggestion and advanced search queries, finding just the right product on your store has never been easier.
Like all of our products and services, Search Magic is built and supported by our team based in the USA!
If you're a developer or agency looking to offer Search Magic to your clients, click here for information on our reseller program.
Search Magic Search Features
Instant Search
Shows suggested search terms and products as you type them in the search box.
Spelling Error Correction
When a misspelled word is detected, Search Magic displays a link with the correct word.
Synonyms
Easily setup synonyms for search terms, so if a user misspells a word or uses an alternate version of a word the products they were searching for will still be displayed.
Filtering and Sorting
Sort by Search Relevancy, Name, Price Low to High, Price High to Low.
Keyword Redirects
Redirect users to a specific page if a specific term is searched.
Single Result Redirect
Optional feature that allows a single result term to auto-redirect directly to the item page.
Bookmarkable Search Results
Bookmarking a search results page will automatically display the results when recalled.
SKU Search
Do a separate search to match product SKU to redirect directly to the product.
Suggested Products
When a search is conducted, Instant Search / Autocomplete will show suggested products based on search terms.
Search Magic Design Features
Responsive / Mobile Friendly
Search Magic is built to be 100% compatible with all site designs including adaptive, responsive and mobile websites.
Two Layouts to Choose From
Select either a horizontal or vertical layout for the filtering / sorting / pagination bar depending on the design of your store.
Font & Colors
Font, colors and the overall look and feel of Search Magic's search templates can be customized to match your store.
Designed specifically for those in the auto parts, or similar industry, our Parts Finder adds additional functionality to Search Magic by matching shoppers with parts that are specific to their year/make/model.

Features of the Part Finder Add-on include:
Ability to create custom searchable fields specific to your industry/application (ex: search by height/width/length or brand/color/size)
Automatically saves search settings such as year/make/model for future searches
Fully customizable to match the look and feel of your store
Mobile friendly
The Part Finder Add-on for Search Magic is installed by our support team outside of the application.  Contact us for more information and pricing.
Built by our team of experts from the ground up, Search Magic has been providing advanced search functionality for some of the largest online merchants on the Verizon Small Business Essentials platform for nearly a decade.  As the demand for an affordable on-site search solution increased for other eCommerce platforms, we answered the call!

Some of the largest online merchants in the world rely on BigCommerce to sell online.  Some of those same merchants choose Search Magic to power their store's site search.  While there's plenty of 3rd party search providers, few can match the features, flexibility, and price of Search Magic.  With powerful tools such as built-in Google Analytics, spelling error correction, Instant Search, and more, Search Magic is quickly becoming the go-to 3rd party search app for BigCommerce merchants.
Pricing starts at $49/month with a risk-free 30-day free trial.  Find Search Magic in the BigCommerce App Marketplace by clicking here.

Search Magic for Shopify is a simple-to-install, feature-packed search solution that is designed to connect your shoppers with the products they're looking for.  Advanced merchandising features such as filtering and sorting, keyword redirects, suggested products, and more make Search Magic the search application of choice for those looking to monetize their store's search engine.
Pricing starts at $19/month with a 30-day no risk free trial.  Find Search Magic in the Shopify App Store by clicking here.

Simply put, Search Magic is the most affordable, feature-packed advanced search application for the Verizon Small Business Essentials platform.  With a feature set that rivals others that cost 25-40% more, it's no wonder Search Magic has been the 3rd party search of choice for the largest Verizon merchants for nearly a decade.
For pricing and more information on Verizon Small Business Essentials integrations, please contact us.
Search Magic Screen Shots
Search Magic Comparison Chart
Curious to see how Search Magic stacks up to other 3rd party search applications or the platform's default search?  No problem!  Check out the comparison chart below.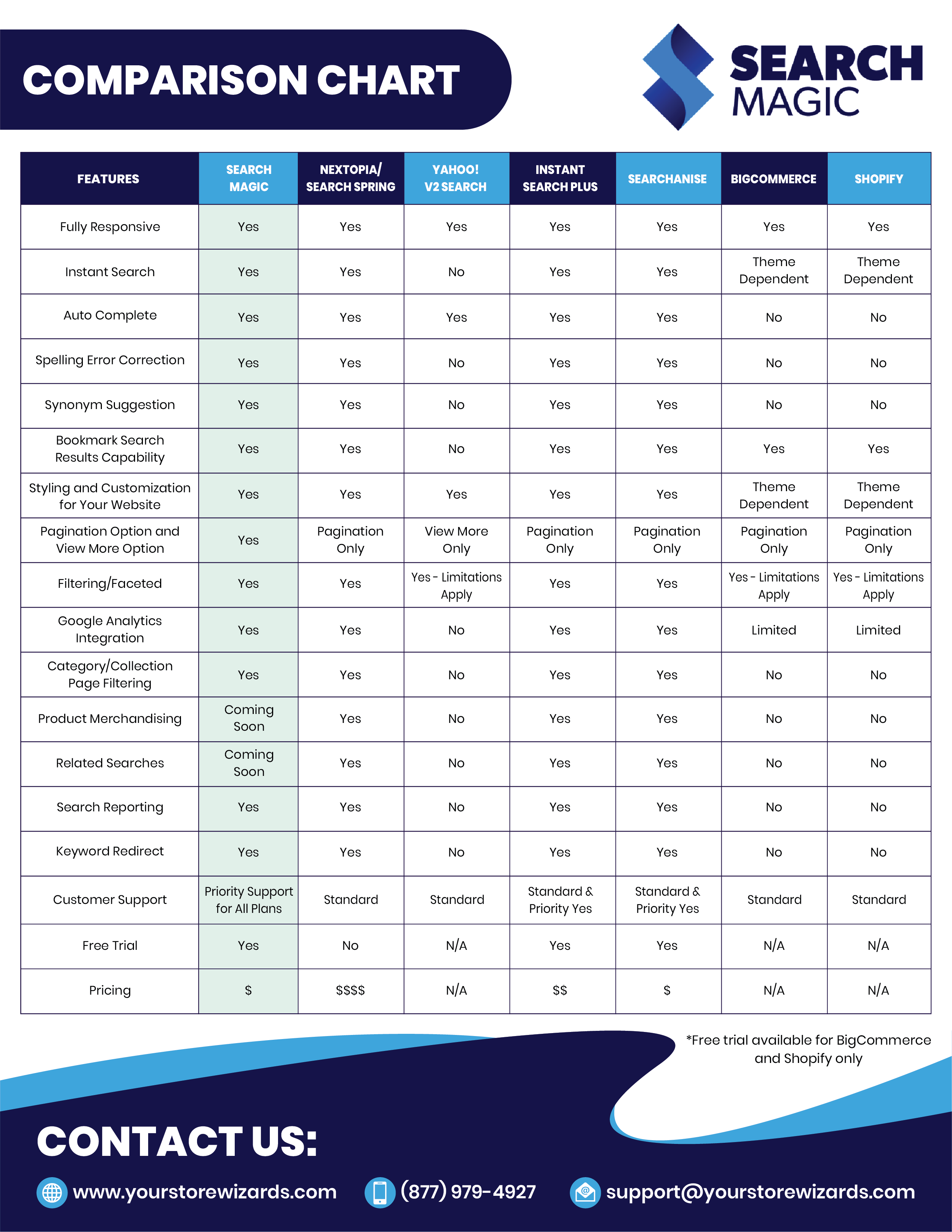 Your Store Wizards Client Testimonials
After years of paying sky high prices for a robust search system, we switched to YSW Search Magic. We love the operator friendly interface and ease of adding misspellings and slang. With over 65% of our customers Using our search feature, it is critical for us to run a system that is not only easy for us, but easy for the customers to find what they want. We are getting the same positive results using this system compared to our old. Only difference is, we are saving a ton of money and Don and team Take the time to hear our feedback and make improvements when necessary.

Contact Us
Contact Us for a
Free Quote